We can't wait to see you in Lubbock again for this year's West Texas Regional Conference.  Complete up to 7 hours of training with one event.
We'll have Stephanie Chase as our featured presenter along with several other favorites!  DETAILS HERE!

REGISTRATION IS OPEN!  Early bird pricing ends Sept 2nd!
Member Early Bird Price – $80
Registration continues until Monday, Sept 18th.
Event Details
We're so excited to have STEPHANIE CHASE as our featured presenter!  Get all the DETAILS HERE!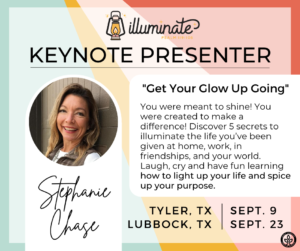 Date: September 23, 2023
Start time: 08:30 a.m. CDT
End time: 05:00 p.m. CDT
Venue: Indiana Ave Baptist Church
Email: events@earlychildhoodchristiannetwork.com